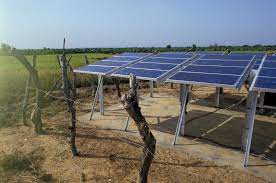 The Skills for Energy in Southern Africa (SESA) project aims to build skills or Renewable Energy (RE), Energy Efficiency (EE) and Regional Energy Integration (REI). The SESA project was a build-up from the recent Skills Development for the Renewable Energy Sector (SkiDRES) project which was focusing on the development of skilled labour in the renewable energy and energy efficiency sectors of Zambia. The baseline survey for a 3-year Skills for Energy in Southern Africa (SESA) project was conducted from August through October 2021. The project is implemented by Kafue Gorge Regional Centre (KGRTC) in Zambia and funded by the Government of Sweden.
The overall objective of the survey was to establish baseline data for key project indicators in the performance measurement framework of the SESA project. The evaluation team identified a representative sample of graduates who attended KGRTC courses in RE/EE/REI, host companies that are companies the graduates were working for during the training and key stakeholders in SADC to measure relevant project indicators.
Employing a mixed-methods approach, the survey team collected quantitative and qualitative data through surveys, and key informant interviews with targeted stakeholders. Data collection was conducted virtually using contact details that were provided by KGRTC.